LIBERATION COCKTAILS - COCKTAILSFUSTAGE
En Premium Cocktails Serie af højeste kvalitet, udvalgt af de bedste mixologer. Indeholderde fineste kvalitetsingredienser og craft spiritus. Blandet og blendet til en perfekt konsistens og færdigbatchet i 20L envejs (genanvendelige) fustager. Tilslut blot til en standard fadølskobling, hæld det over is og tilføj garniture. Reducer arbejdsomkostninger og lagertab, forbedr kundeoplevelsen, og gør din virksomhed mere bæredygtig. Har du lyst til at prøve serien?
Se hvordan du laver den perfekte 'foam' på vores P***star Martini
VI SKABER VÆRDI FOR DIG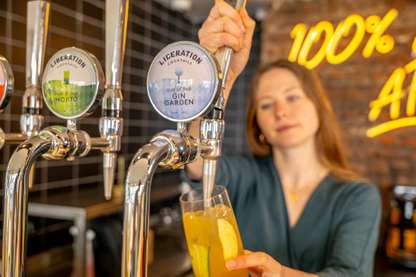 Hurtig service og øget kapacitet
Ved at fjerne bartendernes behov for individuelt at måle og blande ingredienser til hver eneste drink, fremskynder vores færdigblandede cocktails on-tap din service betydeligt, så du effektivt kan betjene et større antal kunder på kortere tid. Ved at reducere den tid, det tager at tilberede hver cocktail, kan spillestederne øge deres gennemstrømning og kapacitet, betjene flere kunder og generere højere indtægter.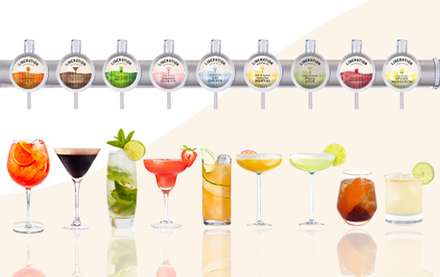 En ensartet smagsoplevelse
Med vores færdigblandede cocktails på fustage er opskriften og proportionerne standardiserede, hvilket sikrer ensartet kvalitet og smag i hver eneste drink. Denne ensartethed er især vigtig på travle steder, hvor flere bartendere arbejder samtidigt.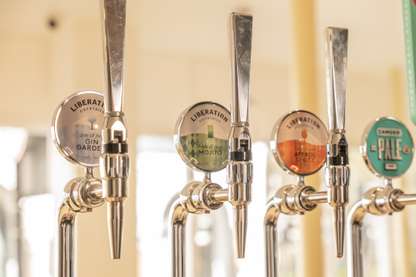 Hurtig introduktion & uddannelse
Vores færdigblandede cocktails i mixologist-klasse kræver mindre træning og færdigheder sammenlignet med traditionel mixologi. Det kan være en fordel for et sted med stor udskiftning af personale eller for at forenkle oplæringsprocessen. Dine bartendere kan fokusere på andre aspekter af jeres service, såsom at engagere sig med kunderne og give dem personlige oplevelser.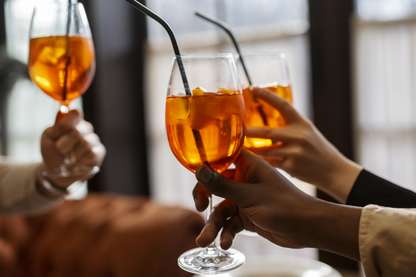 Styr på lager & mindre spild
Ved at bruge færdigblandede cocktails kan du strømline din lagerstyring. Da ingredienserne er færdigblandede, er det ikke nødvendigt at lagerføre og holde styr på en lang række individuelle spiritusflasker og mixere. Det forenkler din bestillingsproces, reducerer spild og minimerer risikoen for at løbe tør for bestemte ingredienser i spidsbelastningsperioder.
INSTALLATION
Vi imødekommer alle dine installationskrav og kommer med den bedste løsning ud fra dit individuelle behov. Vi søger for det hele fra valg af hanetyper, levering af udstyr, installation og eftersalgsservice. Vi har betroede teknikere i hele Danmark, som er klar til at rykke ud inden for 24 timer hvis du har problemer med installationen – det betyder reduceret nedetid og total ro i sindet.
kom i gang
USEFUL DOWNLOADS
For information om pakkestørrelser, pallekonfigurationer og meget mere
download her
Få overblik over det nødvendige udstyr til din cocktail-opsætning
download her
FOR EVENTS
Eye Catching Formats To Serve The Liberation Cocktails Range At Speed
THE MAGIC WALL
En mobil tappevæg, der er designet til at give en meget iøjnefaldende, men lige så nyttig baggrund i en række indendørs barmiljøer.
FUNKTIONER
Nem at flytte rundt.
Fustager og udskænkningsudstyr står pænt bag væggen.
Kan bruges som en selvstændig selvbetjeningsbar til firmaarrangementer og business lounges, eller kan bruges som et ekstra backbar-servicepunkt til barer med stort volumen.
Modulopbygget system, der kan monteres ekstra tap-vægge.
Skræddersyet branding og menupaneler.
Kan leveres med Apple-Pay og selvbetjeningsteknologi, så det bliver en helt integreret selvbetjeningsbar.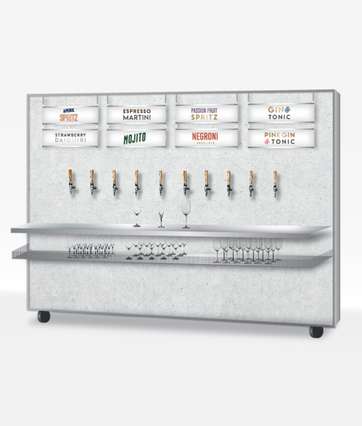 MINI MOBILE TAP
En fuldt integreret mobilbar til midlertidige eller semi-permanente placeringer. Kan placeres foran Magic Wall som en frontbardisk eller som en selvstændig bar. Leveres med 3 haner og tilhørende dispensersystem. Ideel til store konference- og eventområder.
FUNKTIONER
Kan nemt rulles rundt på mødesteder, både inde og ude.
Hver barenhed rummer 3 x 20 liter cocktailfade. Det svarer til 78 flasker.
Enheden er klar til at servere Liberation Cocktails-sortimentet. Køle- og tappesystemer er integreret sammen med strøm, belysning og brandingmuligheder, der kan tilpasses.
Vi samarbejder med et nationalt udskænkningsfirma, som kan løse udskænkningsproblemer inden for 6 timer overalt i Danmark.
TINY TAP
Vores mindste og mest mobile enhed. Leveres med 2 haner og fuldt integreret dispensersystem. Designet til at blive betjent af 1 bartender. Ideel til stadioner, hoteller, konferencer og terrasser.
FUNKTIONER
Nem at flytte rundt.
Fustager og udskænkningsudstyr sidder pænt indeni.
Kan bruges som en selvstændig selvbetjeningsbar til firmaarrangementer og business lounges, eller kan bruges som et ekstra backbar-servicepunkt til barer med stor volumen.
Skræddersyet branding og menupaneler.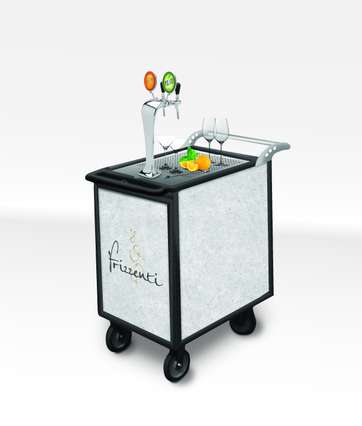 kontakt os